Dates :
22/06/2020 - 29/06/2020
Area: Hohe Tauern, Austria
Description
In the realm of the highest mountains in Austria, Grossglockner, the highest point in Austria, awaits you!
Planned tours:
Grossvenediger 3666 m

Grossglockner 3798 m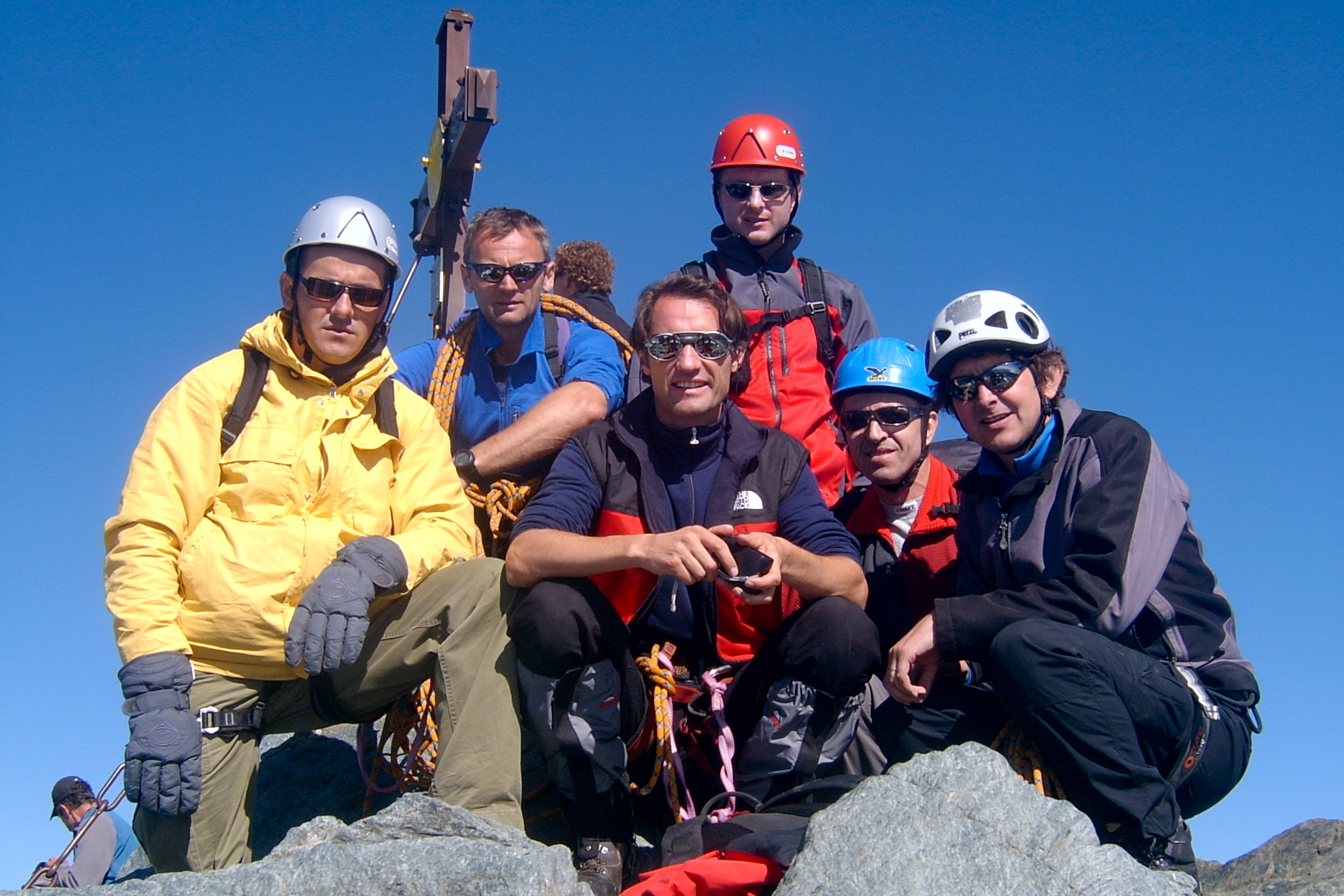 The challenge, the sun, the infinite glaciers and the smell of snow all blend together into a unique experience on this mountain so sacred to the Austrians.
Itinerary
Day 1: Meeting at the foot of the mountain
Early in the afternoon, you meet your guide and fellow teammates for the climb in Hinterbichl, which is a little village at the foot of Grossvenediger.
Day 2: Meeting at the foot of the mountain and walking to Defreggerhaus (2962 m)
After breakfast, you can "cheat" the first half of the long hike up by taking the "Venediger Taxi" - a van service most climbers resort to - up to Johannishütte at 2121 meters. On this day there'll be no glacier walking. From Johannishütte it's a pretty walk up on the alpine hillside. The hike is moderately difficult; you should make it to Defreggerhaus in 2.5-3 hours. We'll do an ice basics course and test our equipment on the glacier.
Day 3: Climbing Grossvenediger (3666 m), descent to Johannishütte
You will get up at dawn. You need to ascent 700 vertical meters to reach Austria's 4th highest peak. You will start the ascent with your headlamp on in the dark on a rocky trail. After about 30 minutes, you enter the glacier. Your mountain guide will rope you up and you will put your crampons on. However, you may start to feel fatigue, because you're above 3000 meters. Don't be afraid if you experience a small headache - it's normal, but tell your mountain guide about it.
After a 2.5-3 hour climb, you're on a narrow ridge leading to the summit. You are on the region's second tallest mountain, topped only by Grossglockner - you have an awesome view of Grossglockner to the east and it is our next target after this peak. After summiting, you descend to Defreggerhaus for a rest. It's quite likely that you'll be in time to walk back to Johannishütte (1-1.5 hour walk down) which is more comfy than Defregger with better food and the chance of a hot shower.
Day 4: Descent to the valley
You should get up at around 8-8:30 and take the taxi down to the valley to say goodbye to these magnificent mountains. You will sleep in or around Kals.
Day 5: Hiking to Stüdlhütte, 2802 m
You should get up at 8:00 and take a drive up to the parking space of Lücknerhaus. You'll start walking at 2,200 meters and will need to tackle a vertical of 600 meters to get to one of the most modern huts in the Alps. This will take you about 1.5-2.5 hours. An indoor climbing wall and great cuisine await you at the hut. Do go to bed early, as the morning sees you leaving quite early. Please note that we cannot guarantee that you'll have accommodation in Stüdlhütte. You need to book very early (at least 2 months in advance) to make sure you do. Still, if there are no free beds at Stüdlhütte, we can sleep at another hut closeby, Adlersruhe.
Day 6: Summiting Grossglockner, 3,797 m
After an overnight stay and breakfast you start at around 5:00 from Stüdlhütte across the Koednitzkees glacier to Erzherzog-Johann-Hütte (3.454 m, 2.5 hours). You climb up to the summit of Grossglockner at 12:00 to 13:00 ( 1,5 hours). Enjoying the panorama view from the top you descend the same route back. At about 18:00 you will be back at the Stüdlhütte. Celebrate at the hut in the evening!
Day 7: Descending down to the valley
Walk back down to the parking lot - it shouldn't take much longer than an hour. On your way down, your mind involuntarily begins to plan your next ascent of a 4000er. May we suggest Mont Blanc? You're fit for it after successfully summiting of Grossglockner.
EUR 1400/client
6 clients/mountain guide Grossvenediger
2 clients/mountain guide Grossglockner
The price includes:
guiding
EUR 2100/client
4 clients/mountain guide Grossvenedige
2 clients/mountain guide Grossglockner
The price includes:
guiding
climbing equipment and safety-kit backpack
8 weeks training plan
coaching - 8 Skype calls
Not included in the price:
lunch, dinner and extra meals
soft drinks, beers, etc.
accommodation (BB)
insurance
cable car tickets
transport from and to airport
climbing equipment and safety-kit backpack are individually bookable
8 weeks training plan
coaching - 8 Skype calls
Not included in the price:
lunch, dinner and extra meals
soft drinks, beers, etc.
accommodation (BB)
insurance
cable car tickets
transport from and to airport
Equipment (rental can be arranged)
The basic equipment
Sun glasses

Sun cream and lipstick

Water bottle or thermo bottle

Toilletris

Headlamp with spare battery

Hiking socks

Pocket knife

ID and Alpine Club membership

Money

Silk sleeping bag

Band aid

Camera

Map

Backpack 30-40 l
Clothes
A Suitable all weather pants

A Suitable all weather jacket

Warm and comfotable functional clothing

Thermal underwear short/long

Spare underwear

Hiking socks

Cap/headband

Gloves

Sun cap
Technical equipment for alpine and summit tours
Trekking or mountaineering boots

Harness with HMS carabiner (we give)

Mountaineering boots that can take the crampons

Ice axe

Extry ice axe for steeper ice

Gaiters

Climbing helmet
What happens after you book:
We will contact you and discuss the route, equipment and any special needs of yourgroup.

We will tailor climbing plan to fitness level of your group.

We will send you our standard contract and payment instructions (credit card, PayPal, cheques, wire transfer) on application or 6 weeks before the agreed date, you have to pay deposit of Euro 500 or the full amount.

4 week befor the agreed tour you have to pay the full amount.

If you cancel a booking, we will applay the following charges

30 -21 days prior to departure 50% of trip price

20 - 10 days prior to departure 75% of trip price

9-0 days prior to departure 100% of trip price

1 day before the agreed date, we will let you know about weather conditions and how to prepare for the travel to destination.
For any questions,
contact your guide Milan Romih directly:
at +386 41 633 854 or
Expertise - Safety
Our courses, trekkings and expeditions have been tried, tested, altered and perfected over decades. We, IFMGA mountain guides, have gained experience in the Alps, Yosemite, on expeditions in the Andes, the Himalayas and the Karakorum. Our knowledge and experience have been transferred to all spheres of our organization, from the first call to safe return home.
We are focusing on smaller groups of clients as we provide higher level of individual assistance. A very important part of our activity is to advise our clients on how to get a proper fitness condition and how to choose correct quality equipment for their safety. By doing so, we ensure the highest possible safety and comfort for our clients.
We put a lot of attention to making reliable relationships with local partners (Sherpas, porters) and we treat them as members of our Alpguide family. We always asses risks and follow safety procedures that ensure safety of our clients, partners and guides.