Dates :
20/10/2020 - 08/11/2020
Area: Khumbu Nacional Park, Nepal
Description
In the heart of the highest mountains of Everest Khumbu Himalayas in Nepal, Mont Everest, Lhotse, Cho Oyu, the highest points on Earth awaits you!
Planned tours:
Planned peaks - highest points:
Gokyo Ri (Peak) 5357 m

Cho Oyu Base Camp 5200 m

Renjo Pass 5345 m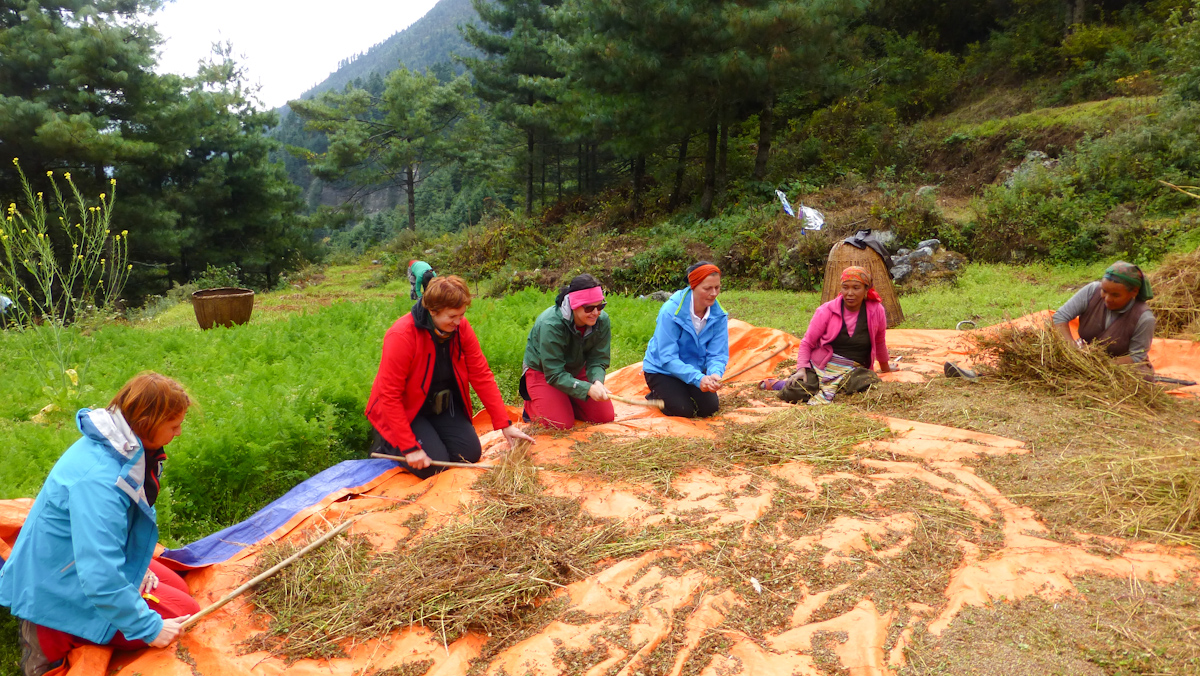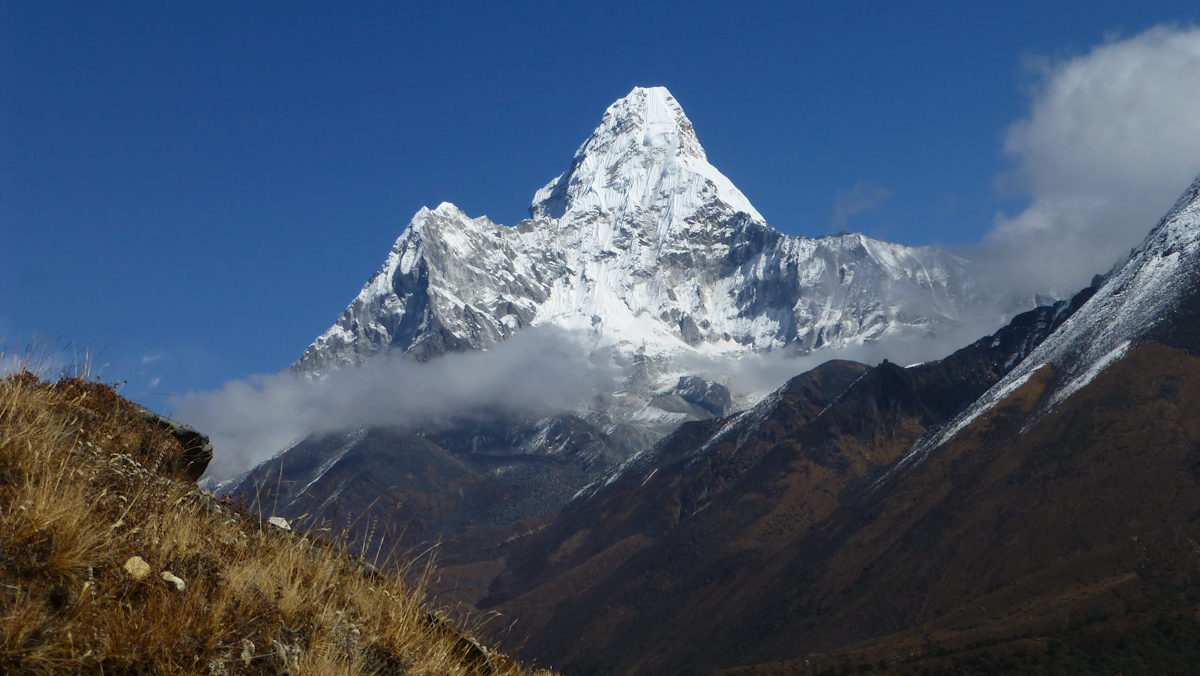 Sherpa's villages, wild scenery, attractive landscape, getting experience about the rich Buddhist culture ... completely different colors, smells, people ... to Gokyo Ri, from which you can observe numerous peaks: Cho Oyu, Gyachung Kang, Mt. Everest, Lhotse, Makalu, Cholatse and Tawachee. From the Gokyo lake you go up to cross Renjo La and down again to Bhote Koshi and Tame, where there's an old caravan trail from Tibet.
Itinerary
Day 01: Your arrival to Tribhuwan International Airport (TIA), you will be met by a mountain guide, and transfer to hotel. Overnight at the hotel.
Day 02: Morning drive to Tribhuwan International Airport and 30 minutes flight to Lukla (2804 mtrs.). Trek to Phakding (2610 mtrs.). Overnight at Guest house.
Day 03: Trek to Namche Bazar (3535 mtrs.). Overnight at Guest house.
Day 04: Namche Bazar - Acclimatization day. Hiking up the Syanboche Airport and around Everest View Hotel. From this point, we can see rewarding views of the Himalayas with a stunning sunrise or sunset over the panorama of the Khumbu peaks. Overnight at Guest house.
Day 05: Trek to Phorste Drengka (3675m). Overnight at Guest house.
Day 06: Trek to Machherma (4470m). Overnight at Guest house.
Day 07: Trek to Gokyo (4790m). Overnight at Guest house.
Day 08: Early in the morning we have a steep climb up to the top of Gokyo Ri (5483m). There are stunning evening views of the Gokyo valley, the massive Ngozumpa Glacier and an incredible panoramic view of the whole Khumbu Himalayas, such as Everest, Lhotse, Nuptse, Makalu (8481m), Cho-Oyu (8153m) and Gychung Kang (7922m) can be seen. Those who explore the glacier and Gokyo peak are rewarded. Overnight at Guest hose .
Day 09: Trek from Gokyo to Renjo La and to Lungden. Overnight at Guest house.
Day 10: Trek to Thame and Namche. Overnight at Guest house.
Day 11: Trek back to Lukla. Overnight at Guest house.
Day 12: Morning flight back to Kathmandu from Lukla. Overnight at hotel.
Days 13 - 15: Leisure day in Kathmandu (it's also a spare day incase of any delay due to bad weather in Lukla). Overnight at hotel.
Day 16: Transfer to Airport for your home departure.
EUR 1990/client
10 clients/mountain guide
The price includes:
guiding
EUR 2990/client
6 clients/mountain guide
The price includes:
guiding
Not included in the price:
food
insurance
extra beverages
fly ticket
visa for Nepal
Not included in the price:
food
insurance
extra beverages
fly ticket
visa for Nepal
(Entry visa for Nepal cost approx. 40 USD. The food has to be subtracted around 10 USD for a meal in Kathmandu and trekking 8-12 USD).
Equipment (rental can be arranged)
The basic equipment
Sun glasses

Sun cream and lipstick

Water bottle or thermo bottle

Toilletris

Headlamp with spare battery

Hiking socks

Pocket knife

ID and Alpine Club membership

Money

Silk sleeping bag

Band aid

Camera

Map

Backpack 30-40 l
Clothes
A Suitable all weather pants

A Suitable all weather jacket

Warm and comfotable functional clothing

Thermal underwear short/long

Spare underwear

Hiking socks

Cap/headband

Gloves

Sun cap
Technical equipment for alpine and summit tours
Trekking or mountaineering boots

Harness with HMS carabiner (we give)

Mountaineering boots that can take the crampons

Ice axe

Extry ice axe for steeper ice

Gaiters

Climbing helmet
What happens after you book:
We will contact you and discuss the route, equipment and any special needs of your group.

We will tailor via ferrata plan to fitness level of your group.

We will send you our standard contract and payment instructions (credit card, PayPal, cheques, wire transfer).

On application or last week of the March, you have to pay deposit of Euro 1000 or the full amount.

If you pay deposit you have to pay rest till end of the May.

If you cancel a booking, we will applay the following charges

6 months prior to departure 50% of trip price

4 months prior to departure 75% of trip price

120 days prior to departure 100% of trip price

1 months before the agreed date, we will let you know about weather conditions and how to prepare for the travel to destination.

Requests for information we collect to 22.3.2016. For the final application shall be paid € 1,000 advance payment last week of March and the rest 60 days before departure.
For any questions,
contact your Mountain guide IMFGA Milan Romih directly:
at +386 41 633 857 or
climber@siol.net.
Expertise - Safety
Our courses, trekkings and expeditions have been tried, tested, altered and perfected over decades. We, IFMGA mountain guides, have gained experience in the Alps, Yosemite, on expeditions in the Andes, the Himalayas and the Karakorum. Our knowledge and experience have been transferred to all spheres of our organization, from the first call to safe return home.
We are focusing on smaller groups of clients as we provide higher level of individual assistance. A very important part of our activity is to advise our clients on how to get a proper fitness condition and how to choose correct quality equipment for their safety. By doing so, we ensure the highest possible safety and comfort for our clients.
We put a lot of attention to making reliable relationships with local partners (Sherpas, porters) and we treat them as members of our Alpguide family. We always asses risks and follow safety procedures that ensure safety of our clients, partners and guides.